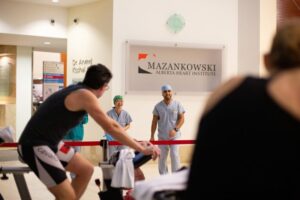 The Maz Move-A-Thon is a chance for everyone to go to the moon during University Hospital Foundation's Heart Month.
There are no limits to how far medical teams at the Unversity of Alberta Hospital's Mazankowski Alberta Heart Institute (Maz) will go for their patients.
Sponsored by MHCare Medical, the Maz Move-A-Thon is a fundraising event led by staff at one of North America's top cardiac patient care and research institutes taking the same approach.
Alberta Health Services staff at the Maz are making moves this February to raise money for heart health during the 2022 Maz Move-A-Thon, a virtual walk, run, cycle or row fundraising event. One of many activities that make up the University Hospital Foundation's (UHF) Heart Month, the goal of the Move-A-Thon is to raise $50,000 for one of four new cardiac monitoring systems.
Getting there is the fun part.
Now in its second year, the Maz Move-A-Thon was created during the pandemic as a safe replacement for a former spin-a-thon event, says Stephanie Wold, a nurse practitioner working in Cardiac Surgery at the Maz.
"Amid the pandemic, we recognized that staff could really use a morale booster and so we came up with the idea of the Maz Move-A-Thon as a COVID-friendly alternative," says Wold.
She and fellow Cardiac Surgery staffers Shinnel Diachinsky and Lisa Hazlett encouraged others to form teams and record their favourite daily activity while gathering donations. "Our original fundraising goal was $20,000 and our activity goal was to cumulatively walk across Canada," says Wold. "Both goals were met after the first week of the Move-A-Thon and we quickly realized we were on to something great."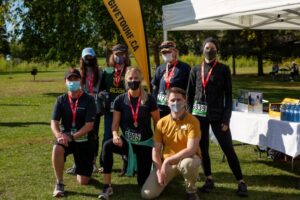 With February being Heart Month, the Maz Move-A-Thon is one of several events being held to benefit the Mazankowski Alberta Heart Institute, a facility which has literally touched the hearts of so many people in Western Canada.
The first Maz Move-A-Thon ended up raising more than $55,000 for the Mazankowski and staff walked the equivalent of almost twice the distance around the globe. Wold says the goal of the 2022 event is for participants is to walk a combined 360,000 kilometres — equivalent of the distance to the moon — and once again raise more than $50,000.
"Supporting the Maz is an important way to help advance patient care, research and education at this incredible facility," she says. "Our success is possible because of amazing community support."
The Maz is one of North America's leading heart institutes and performs more than 5,000 potentially life-saving procedures every year on people not just from Alberta but also British Columbia, Saskatchewan, Manitoba, the Yukon and the Northwest Territories. It is also the only centre in Northern Alberta to provide care to patients requiring advanced treatment for cardiac and respiratory failure.
"Advancement in cardiac and respiratory care at the Maz is very important to me, my family and others in need of this type of care," says Sam Mraiche, president and CEO of MHCare Medical, an Edmonton-based global provider of health solutions. "I'm extremely pleased to see that the UHF is creating fun and innovative ways to raise funds and awareness for such an important cause. My team and I are very proud and honoured to be supporting such a great program!"
Physicians and staff at the Maz have continued to work tirelessly throughout the pandemic to support those in need of cardiovascular care and to promote overall heart health. But the public can play an important role with its financial support of annual events, many of which are organized by the UHF.
The impact of heart health and the importance of the Maz can't be overstated. Each year through the foundation, money is raised that allows the Maz to offer the most advanced technologies available in cardiac patient care, to fund ground-breaking research and recruit some of the best and brightest doctors from around the world.
"Millions of Canadians will be touched by cardiac disease at some point in their lives," says Dr. Robert Welsh, a professor and academic interventional cardiologist at the Mazankowski Alberta Heart Institute. "Many of them will come to the Maz. We have to be ready to provide the best care possible to every one of them."
The University Hospital Foundation's Heart Pledge Day on up! 99.3 takes place on February 24, one of the key moments of Heart Month. This is an annual fundraising event now in its 16th year, hosted on-air by up! 99.3 radio and sponsored by Durabuilt Windows and Doors. Last year's event raised more than $500,000 and the goal this year is to raise over $600,000 to support continued excellence at the Maz by ensuring doctors have the best cardiac monitoring equipment available at their fingertips.
On February 24, from 6 a.m. to 6 p.m., the live radio event will have frontline cardiac care staff and their patients share personal stories of their own experience in providing or receiving word-class cardiac care at the Maz. Listeners can donate to support the cause by telephone at (877) 797-0460 throughout the day or online at HeartPledgeDay.ca.
For more information about the Maz Move-A-Thon and to get yourself or your company signed up to get moving, visit GiveToUHF.ca/Maz-Move.
This story was created by Content Works, Postmedia's commercial content division, on behalf of University Hospital Foundation. 
Author of the article:
Gerald Vander Pyl  •  Postmedia Content Works
University Hospital Foundation
The University Hospital Foundation (UHF) raises funds to advance patient care, research and innovation at the University of Alberta Hospital, the Mazankowski Alberta Heart Institute and the Kaye Edmonton Clinic, as well as research at the University of Alberta and care in the community through Alberta Health Services (AHS). As agents of hope, we boldly seek solutions to seemingly insurmountable challenges, matching the determination and purpose-driven intensity of the healthcare teams we support. Using innovative approaches to philanthropy, including new partnerships and bold ideas to bring the right people, resources and solutions together, we are improving health, reducing the devastating impact of disease and addressing the inequitable health challenges faced by members of diverse cultures.
For more information visit GivetoUHF.ca.