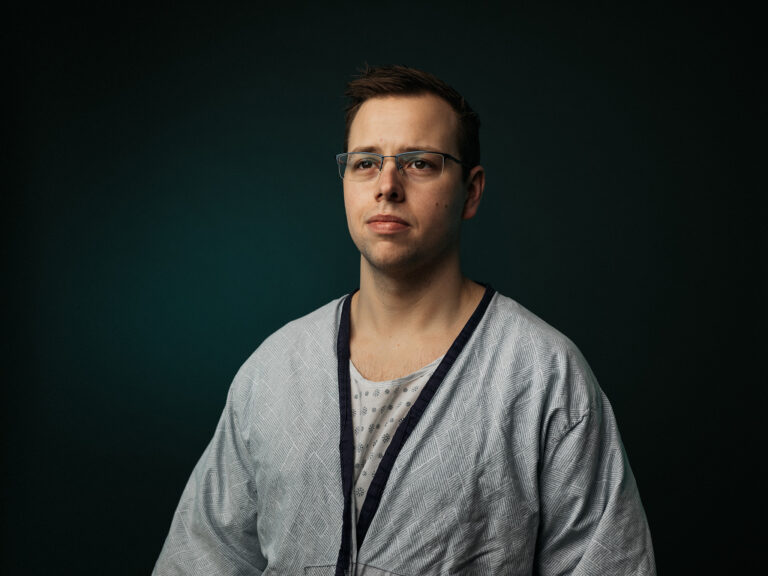 Lukas Jardine, 28, of Sherwood Park was one of them. His wife Celine was making breakfast when he stumbled into the kitchen.
The left side of his face had already begun to sag. His eye was drooping.
An acupuncturist and former lifeguard, Celine recognized the signs of a stroke immediately – and she was horrified. She asked Lukas to hold his hand in the air but he couldn't do it. He tried to speak but his words were just sounds that made no sense.
Immediately, Celine knew that she had to get help, and that if it didn't arrive soon enough, their lives could be changed dramatically forever.
Hours later, Lukas was resting in a bed at the University of Alberta Hospital, asking one of the nurses when he could go home.
Within minutes of its arrival, Lukas was wheeled into the Stroke Ambulance for a CT scan. Seconds later, the images were sent to an on-call neurologist at the University of Alberta Hospital, who consulted with the on-board stroke physician.
The two doctors determined that Lukas should receive tPA, the clot-busting drug that restores blood flow to the brain in stroke victims.
Four months after his stroke, Lukas returned to work, fully recovered.
"We are so thankful for the Stroke Ambulance," said Celine. "I knew that if Lukas didn't get help soon, our lives would be changed forever. When they showed up, it was a huge relief."