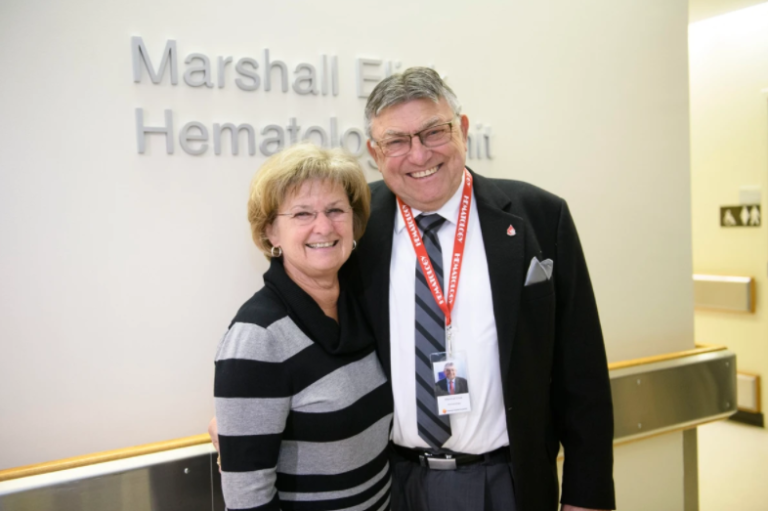 To say Marshall Eliuk is grateful is an understatement.
In 1999, after more than 40 years as a leader in Northern Alberta's real estate and automotive industries, doctors at the University of Alberta Hospital put the brakes on Marshall. They diagnosed him with a severe form of aplastic anemia – a rare and serious blood disease.
"They called my recovery a miracle," said Marshall Eliuk, who required six bags of platelets every three days for nine months in order for his blood count to return to normal. "And today, I am grateful for the care I received at the University of Alberta Hospital. I am happy to be able to make a gift that will help so many people."
18 years after his diagnosis, Marshall Eliuk is turning his own miracle into transformational impact.
Marshall's $3 million gift will transform patient care in the Hematology Unit. The hospital's newly-renamed Marshall Eliuk Hematology Unit will feature a family room where patients, family and friends can gather in privacy, or discuss care with the healthcare team (pictured below). As many patients require extended stays on the unit, this quiet space will improve the patient and family experience.
The Marshall Eliuk Fund for Clinical Innovation and Exemplary Care in Hematology will support research and innovation in the fight against blood disease, by helping the UAH's hematology team attract and retain top specialists and supporting research that will save thousands of hematology patients by bringing scientific discoveries from the lab bench to the bedside sooner.
"We are honoured to be celebrating the tremendous impact of Marshall Eliuk today," says Dr. Loree Larratt, Clinical Hematologist at the University of Alberta Hosptial. "We've made many advancements in treatments related to blood cells, but Marshall's gift will make such a difference in what we're able to do."