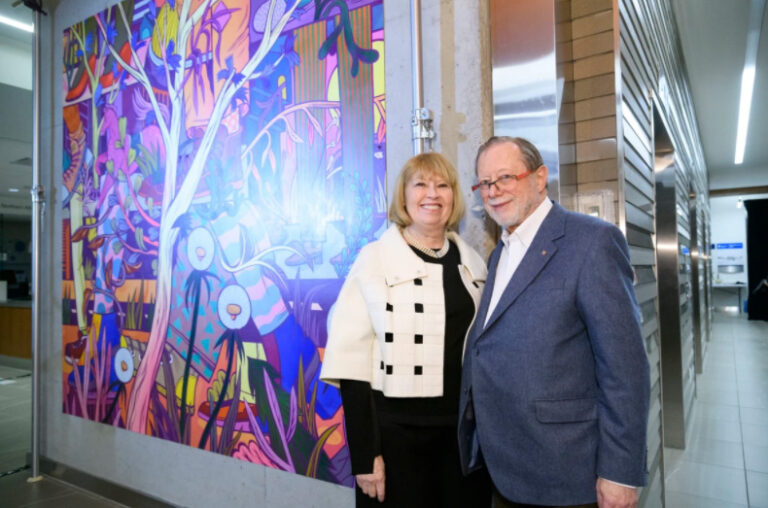 In September 2017, Dianne and Irving Kipnes – two of Edmonton's most well-known philanthropists – were honoured with the University Hospital Foundation's Peter Lougheed Award for the Advancement of Health Sciences.
Awarded only 6 times since 1996, the Peter Lougheed Award for the Advancement of Health Sciences was created to recognize individuals who exemplify outstanding community leadership and philanthropic support; individuals whose philanthropic spirit has gone above and beyond – and played a major part in transforming Alberta into leader in health sciences. Individuals like Dianne and Irv Kipnes.
To those who know Dianne and Irv, their passion for healthcare is only equal to their passion for the arts. Given this, it made perfect sense to honour their contributions with the unveiling of a commissioned work of art by local artist Jill Stanton – Purple City.
The colorful, vibrant mural – which captures the whimsical spirit Dianne and Irv appreciate most in art – is housed inside the C.J. Woods Prostate Health Clinic. The clinic opened in 2017 thanks to a tremendous fundraising campaign spearheaded by Irving Kipnes and C.J. Woods. The campaign raised $30 million to advance prostate health in Alberta, leading directly to the opening of the Northern Alberta Urology Centre at the Kaye Edmonton Clinic.
"We've seen 55 thousand patients already since the clinic opened," said Dr. Trevor Schuler, Divisional Director of the Northern Alberta Urology Centre, "To say the Kipnes' support has been essential is an understatement."
"It's well documented that artwork plays a valuable role in healing and soothing patients in healthcare settings," explains Ellen Cunningham, manager of the University of Alberta Hospital Art Collection, who spoke at the unveiling.
"Irv and Diane Kipnes appreciate the healing power of art in a healthcare – that's what makes dedicating 'Purple City' to them so powerful, and meaningful."