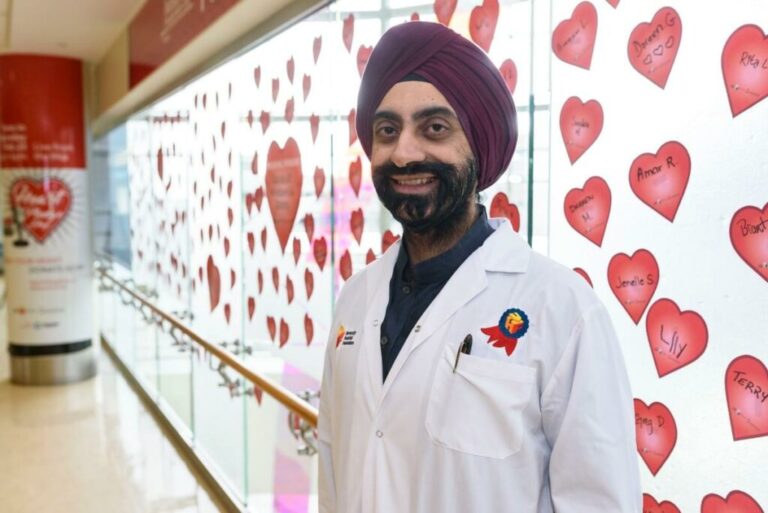 This month meet Dr. Gurmeet Singh, Intensivist at the Mazankowski Albreta Heart Institute
When he's not in the Cardiovascular Intensive Care Unit, chances are, you'll find him with his camera.
1. Where are you from?
I'm an Edmontonian. While I was born in New Delhi, I was raised in Edmonton from the age of 1 1/2.
2. When and how did you decide to become a doctor?
Like all good things in my life, I largely stumbled into it. I only applied to one medical school, here at the University of Alberta, after my second year of undergraduate sciences.
My uncle was a long-practicing orthopedic surgeon in Edmonton, and his example was always in the back of my mind, I suppose. I would visit him at the hospital and see how he was dedicated to his craft, and the relief provided to his patients. Service is a fundamental tenet in our family and community – medicine seemed a natural way for me to contribute directly from a professional perspective. I always viewed studying medicine and serving others as a privilege. That has not changed.
The most profound influence, I suspect, was my paternal Grandfather. Due to jurisdictional regulations in British India, he was unable to go to medical school, and had to attend law school instead. He always expressed regret at not being able to pursue his dream of medicine. I guess we always try to fulfil the dreams of our fathers, even subconsciously.
3. What led you to specialize in cardiac intensive care?
It's a somewhat circuitous story. After graduating, I began practicing cardiac surgery with a focus on heart transplantation and mechanical circulatory support (partial artificial hearts) at the Cleveland Clinic. I had always spent considerable time in the intensive care unit, caring for our patients, and felt we could further improve patient care. I was recruited to another American centre, but I chose instead to come back to Canada to be closer to family and formally train in Critical Care Medicine and Echocardiography.
It was not a difficult decision to relocate to Edmonton – back in Alberta with my family – and of course, the exciting prospect of coming on stream at the Mazankowski Alberta Heart Institute.
4. What do you do for fun?
My 7 year-old nephew generally determines what constitutes fun – a guaranteed good time. Just ask him.
When permitted time to myself, I am passionate about photography. It's a relaxing hobby, and has become my visual diary of my life. I always have my camera with me.
5. What is your favourite local hangout?
The SugarBowl – the essence of Edmonton and the University of Alberta campus.
6. What does support from the University Hospital Foundation mean for Intensive Care at the Mazankowski Alberta Heart Institute?
The Foundation has funded trials and supported locally-spearheaded research efforts. Without research, we cannot advance the science and improve the state of care.
It's no exaggeration to say that we rely on UHF to help us provide world-class care at the Mazankowski, from CVICU expansion, to dialysis machines, to the Extracorporeal Membrane Oxygenation (ECMO) advanced life support program. Lives have been saved, and Albertans returned to productive, healthy lives with their families. It's because of the dedication of the University Hospital Foundation – and the passion – that we're able to take cardiac care to the next level.
Dr. Gurmeet Singh is an Intensivist at the Mazankowski Alberta Heart Institute. The University Hospital Foundation has supported major initiatives at the Mazankowski Alberta Heart Institute, including the expansion of the Cardiovascular Intensive Care Unit and advanced life support program (ECMO).