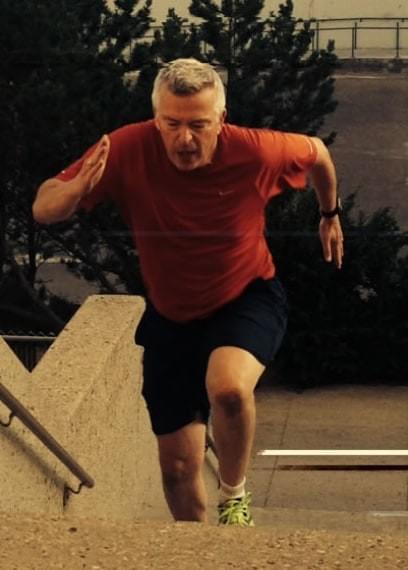 This month meet Dr. Blair O'Neill, Cardiologist at the Mazankowski Alberta Heart Institute
1. When did you decide to become a doctor?
I decided at a pretty young age, certainly in high school anyways. I really liked science and biology in particular. My mom was nurse and brought me to the hospital that she worked at in Saint John. I decided sometime in high school, or first-year university, that I really wanted a career in medicine.
2. What led you to specialize in cardiology?
I grew up in a working class family in Saint John, so I had intended to be a family doctor. Then, by chance, my first two months' rotation were in cardiology. Just the combination of the fast pace, acute care, and then also the continuity of care – looking after patients over a long period of time was appealing to me.
3. What do you do for fun?
I'm at the stage of life where I'm lucky to have grandchildren. So I enjoy opportunities to get together with them. I have three grandchildren and there's a fourth on the way, so really exciting times.I've always been an avid runner, boot camper, and spin class enthusiast – I really enjoy being active and getting into the outdoors.
My wife and I also love to travel, and we've been blessed to visit some pretty special places in the world!
4. What has support from the University Hospital Foundation meant for your program?
I've worked closely with the University Hospital Foundation ever since I was recruited to the Maz in 2008. As a former Division Director of Cardiology, and as part of the Steering Committee for the Maz, it means we've worked closely with the Foundation.
Traditional hospital foundations typically support equipment purchases, which are very important, but in an academic centre like the Mazankowski, the ability to support research and researchers, in addition to equipment, has been incredibly important. I constantly try to help support faculty members, and having the Foundation as another source of funding has made us very, very successful.
For the Mazankowski, comparing across the country, we punch above our weight and I think one of those reasons is because we get amazing support from the University Hospital Foundation.
Generous donors to the University Hospital Foundation support the work of Dr. O'Neill and others at the Maz through funding of new treatments and testing, supporting research, and creating patient-centered environments and educational opportunities.