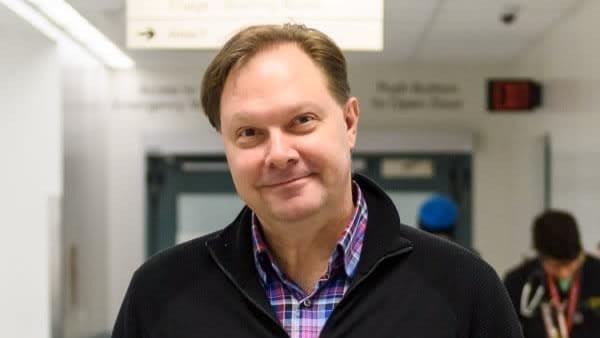 This month meet Dr. Bill Sevcik, Clinical Department Facility Chief of the Emergency Department at the University of Alberta Hospital.
But to his family, he's a farmer with a doctor habit.
1. Where are you from?
I am a very proud farm boy from rural Alberta. I grew up on a farm halfway between Viking and Killam Alberta.
2. When did you decide to become a doctor?
I've always known that I wanted to be a doctor. My mom is a nurse and I was fascinated with her textbooks, especially the anatomy ones that had the see-through, colored plastic overlays. I would spend literally hours looking at them, and asking my mom questions about them.
3. What led you to specialize in emergency medicine?
I am convinced that emergency medicine chose me, not the other way around.
During medical school I loved almost all aspects of medicine. In my third year or so, I was having a difficult time choosing what to specialize in when I realized that I needed to be a generalist. Emergency medicine requires that you be an expert in almost everything.
Essentially I get to practice almost all branches of medicine in an environment that is far from structured. I realized that I enjoy putting some order into a chaotic environment.
4. What do you do for fun?
I love to spend time with family and friends, especially on the farm. My family jokes that I am a farmer with a doctor habit.
I love playing with farm animals, tractors and doing farm work. Growing up on the farm, we played a lot of board games and card games – so that is something I love to do with my family as well.
5. What is your favourite local hang out?
I like being outside. I spend as much time as I can in our local parks, the river valley or off-leash dog areas. It's like being on my family farm inside of the city.
6. What does community support mean for your team in emergency?
Our team works in a very stressful environment. Working with the University Hospital Foundation – on initiatives like the Festival of Trees – makes us aware of the support from outside of the hospital. Thanks to the Foundation's many generous donors, we know that our work is valued and that our community supports us.
The University Hospital Foundation's 2017 Festival of Trees runs from November 30 to December 3 at the Shaw Conference Centre. This year's Festival will help people at University of Alberta Hospital's Emergency Department get the care they need, when they need it most.