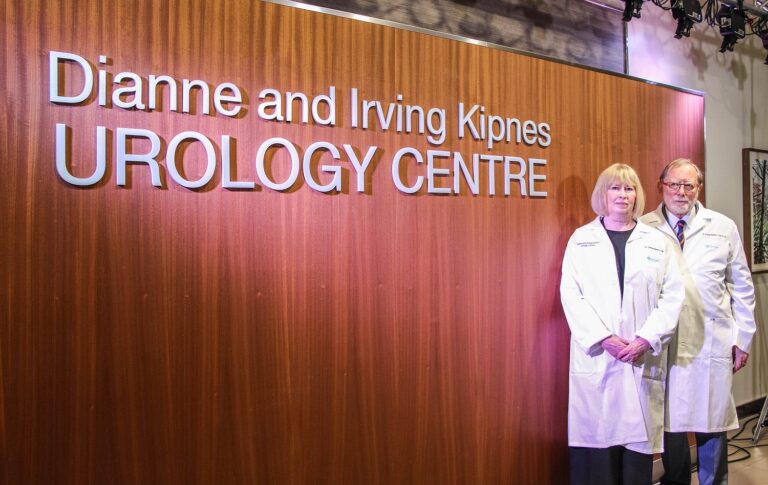 It would be impossible to reflect on the legacy of giving at the University of Alberta Hospital without immediately thinking of Dianne and Irving Kipnes. Long-time supporters of the University Hospital Foundation (UHF), Dianne and Irv made their first gift to the University of Alberta Hospital nearly 30 years ago.
Since then they have given generously to many important causes, as well as to every major fundraising campaign UHF has conducted, including the campaign to build the Mazankowski Alberta Heart Institute, the Campaign for Prostate Health, and most recently the $70 million Brain Centre Campaign.
But Irv Kipnes, a respected businessman and his wife Dianne Kipnes, a retired clinical psychologist, have not only made generous financial contributions to UHF and other healthcare and arts-related organizations across Edmonton, they've committed thousands of hours in volunteer leadership roles to improve our communities and to make life better for people living with some of the most devastating and painful health conditions.
When the Campaign for Prostate Health was launched in 2007, Irv led the way from the beginning, serving as Cabinet Co-Chair. His tireless leadership over the entire course of that campaign played a pivotal role in creating the world leading Northern Alberta Urology Centre—renamed the Dianne and Irving Kipnes Urology Centre in their honour—that has saved and changed the lives of thousands of Canadians living with prostate and urological conditions since opening in 2017.
As the culmination of their vision and efforts, this facility and its staff have achieved the Kipnes' goal of consolidated ambulatory urologic services at a single site. Approximately 60,000 patients and their families will be impacted by the Centre each year. 
The Centre has enhanced the referral process to ensure that patients meet with the right surgeon having had the correct tests in a timely fashion.  It has enhanced the path to imaging and diagnosis of Urologic malignancies and provided access to services such as group education sessions in female urology, stone disease, and prostate cancer. 
And the benefits have significantly improved patient care. Researchers have been able to conduct research projects on access to the clinic, quality of patient experience in cystoscopy and patients' understanding of their procedures and diagnoses. "The Urologic Surgery team will be forever grateful for the opportunity we have been provided—the ability to provide state of the art care, on a daily basis, at "the" preeminent ambulatory urologic centre in the country," says Dr. Tyler Schuler, urological surgeon.
"This donation is a continuation of what we started umpteen years ago with our own health treatments and our own initiative to try and get things better," said Irving Kipnes. "The history of this clinic, since it opened, is incredible. They have treated far more patients than they ever anticipated in the first year—close to 100,000 patients—which was incredible for the efficiency and magnitude of what they have."
Dianne Kipnes says the decision to make the donation was ultimately an easy one because she uses the clinic frequently.
"I probably use this clinic more than anybody else," she said. "I had complications after my cancer treatment and this place has made such a difference in my life."
Dianne's inspiring leadership in establishing the Dianne and Irving Kipnes Chair in Lymphatic Disorders and the Alberta Lymphedema Network has raised much needed public and academic awareness and secured millions of dollars in research funding that will one day help find a cure for the debilitating condition. 
Their generous gifts have given clinicians and researchers the critically important, long term funding they need to dig deeper and think bigger than they've ever imagined in their quest to find cures and enhance treatments for patients with potentially life-threatening urology conditions, and to share their findings with fellow specialists around the world.
As individuals, the Dianne and Irv Kipnes are each outstanding community leaders and philanthropists. As a couple, well, the Order of Canada they received in 2018 says it all – they are indeed the personification of inspiring generosity.