Support for the 38th annual Festival of Trees makes life-changing impacts on neurological rehabilitation.
by ALISHA WHEELER
ONE DAY CAN completely change someone's life — or in Jan Fletcher's case, one horseback ride. An Edmontonian who has been regularly riding horses since the age of four, Jan never thought that her ride on October 2, 2021, would result in her being rushed to the University of Alberta Hospital (UAH). Her horse had been startled by a buffalo and began running home at 40 kilometres per hour. Jan knew she had to make an emergency dismount. It resulted in a traumatic spinal cord injury, and she was told she may never walk again.
It was months of intensive rehabilitation at the UAH that helped Jan slowly recover, to where she can now sit up on her horse and ride with no aids. Thanks to community support of the 2022 Festival of Trees, neurological rehabilitation will be transformed in Alberta — helping people like Jan increase their chances of full recoveries.
The University Hospital Foundation's Festival of Trees, presented by Landmark Homes, has brought the city together for 38 years, raising more than $23 million for causes as far ranging and life saving as Gamma Knife radiosurgery and cardiovascular intensive care at the UAH site.
For its 38th year, the beloved Festival of Trees featured new and exciting experiences for the community to enjoy, while giving back to Albertans who require advanced healthcare. As friends and family took part in festive events and activities, they supported the advancement of neurological rehabilitation at the UAH.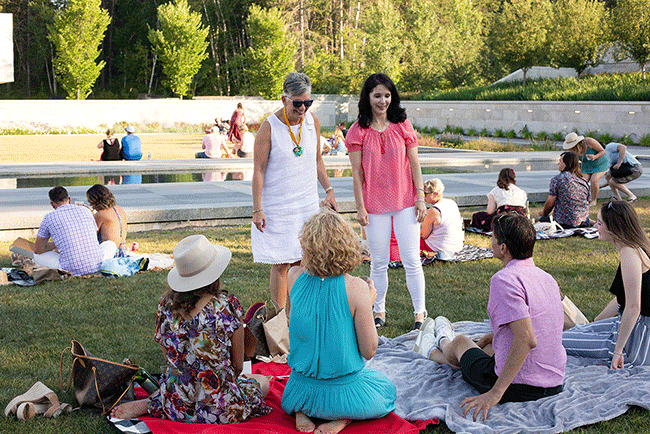 Each year the Festival of Trees kicks off the city's holiday season with a new theme. "This past year, we wanted to 'Let It Shine' throughout our community with never-before-seen experiences for our long-time festival fans and first-time supporters," says Dr. Jodi Abbott, President and CEO of the University Hospital Foundation (UHF). "As we approach our 40th anniversary of the Festival of Trees, we want to expand this fundraising event to be reflective of the diverse community it lives in while raising funds for the critically important causes at our hospital site and throughout our community."
The expansion of the event introduced new ways to connect and celebrate, and brought more opportunities for sponsors to get involved and give back to health care in the community.
For the first time in the event's history, the Festival of Trees offered several in-person events across different Edmonton venues, alongside experiences that could be enjoyed from the comfort of one's own home. The long-time fundraiser began in August, 2022, with the first ever Festival in the Garden — a summer event that allowed Edmontonians to support the cause outside of the holiday season.
During the holiday season itself, the Gala and Auction — presented by the Shelley and Guy Scott Family Foundation, SUiL Management and Kim and Don Wheaton — and vibrant Silver Bell Soirée — presented by Cantiro — hosted Edmonton's movers and shakers. And families came together at the magical Winter Wonderland holiday market and Santa's Breakfast, presented by Volvo Edmonton. In addition to the fan favourite events, the famous online 50/50 draw, presented by Canadian Tire returned, offering something for many to enjoy.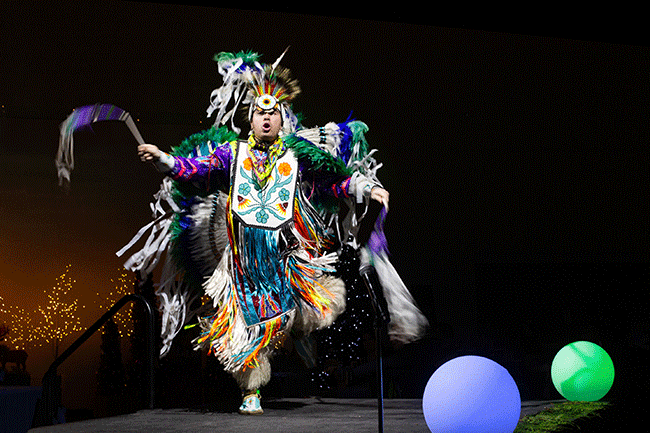 The 2022 Festival of Trees also featured talented performers at several events, including Indigenous traditional hoop dancer, Notorious Cree, and West African drum group, Sangea Academy, at the Gala and Auction.
The UHF set out to expand the beloved event to increase accessibility for festival goers, making it more inclusive to create something meaningful in which partners could be involved.
"Donors to the University Hospital Foundation have and continue to make life-changing impacts on the lives of Albertans who have experienced neurological illnesses or injuries," says Dr. Abbott. "The support we receive from our donors, partners and sponsors plays a significant role in the development of a new, state-of-the-art Neuro Rehabilitation Innovation Centre at the University of Alberta Hospital."
"To have a centre like this at the University of Alberta Hospital means that patients who come in with a neurological illness or a traumatic neurological injury can receive the rehabilitative treatment they need right away," says Dr. Chester Ho, Senior Medical Director for Alberta Health Services' Neurosciences, Rehabilitation and Vision Strategic Clinical Network.
Currently, these patients can wait up to 25 days to be transferred to an in-patient rehabilitation centre. Access to early rehabilitation may significantly enhance a patient's chance for recovery. The community's support resulted in over $2 million raised for the development of the Neuro Rehabilitation Innovation Centre. And $1 million dollars of the funds were thanks to the generosity of an anonymous donor who attended the Gala and Auction, making a significant impact on the cause. Edmonton International Airport (YEG) has been a long-time attendee of the Festival of Trees Gala. This year, it sponsored the Gala's highly anticipated silent auction. "As part of our commitment to uniting people for a world of new possibilities, we are proud to support the University Hospital Foundation's quest to transform neurological rehabilitation in Alberta and beyond," says Edmonton International Airport. "True change is done in partnership with others — every contribution, large or small, will make a difference."
With support from sponsors, donors and the community, this long-standing fundraising event continues to expand with the mission of transforming health care for Albertans, and it all starts right here in the city of Edmonton.