Community donates $8.5 million to transformational initiative.
by Don Trembath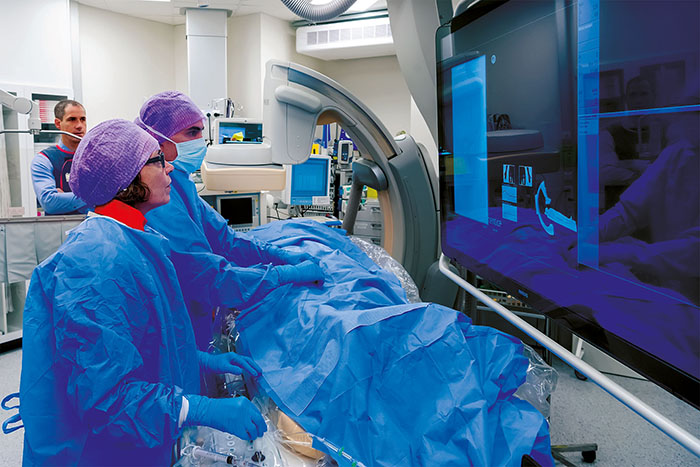 Image provided by Laerdal Medical. All rights reserved
Back in the day, says Dr. Vincent Grant, Provincial Medical Director for eSIM at Alberta Health Services (AHS), simulation exercises were done with a pillow tucked under a blanket to make it look like a human being, "It was a little bit artificial. The evolution of mannequins has really taken off over the last 25 years."
Today, mannequins used in healthcare settings fall under one of two types. There are high-fidelity, which are programmable mannequins that can "talk," sweat, bleed, open and close their eyes, and exhibit symptoms as far-reaching as seizures, variable heart rates and high blood pressure. They have pulses, expanding chests that breathe, and can be made to appear like an actual person experiencing nearly any health condition. The second type are task trainer mannequins that allow for the practice of line insertions, diagnostic imaging techniques such as cardiac echocardiography and respiratory techniques including intubation. Cool, you say, but what does any of that have to do with patient care at the University of Alberta Hospital (UAH)?
Thanks to nearly $8.5 million in community support to the University Hospital Foundation (UHF), one of the most advanced, state-of-the-art simulation labs in North America is being designed and equipped at the UAH.
"We are going to build what I consider to be the 'crown jewel' of simulation labs," says Dr. Grant. "We're incorporating procedural simulators along with the same clinical equipment that we use on patients. In fact, we are creating a training centre that can be turned into a replica of any clinical space in our hospitals."
And beyond. Thanks to distance education technology, virtually facilitated simulation can also be shared throughout the Edmonton Zone and with rural and remote communities across Northern Alberta, surrounding provinces and beyond, ensuring that advanced training and education is available to care providers in communities not immediately adjacent to the UAH.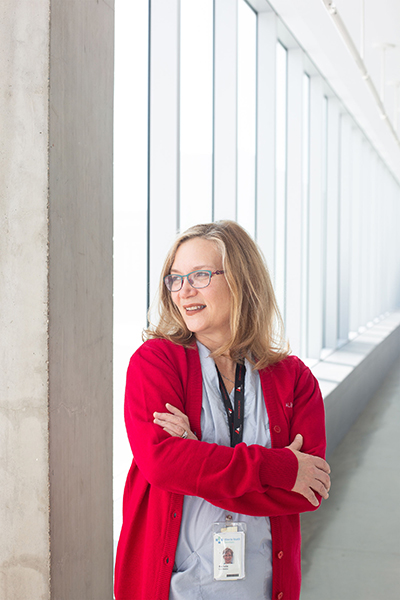 To that end, says Dr. Grant, the new centre will benefit every person in every area of care within the hospital as well as patients, their families and support-providers everywhere. "There is nothing we won't be able to simulate, so this project isn't about benefiting one group of people. It has the potential to transform care for individuals, teams, systems and communities."
For Dr. Jodi Abbott, President and CEO of the UHF, supporting the new SIM centre speaks to the organization's commitment to transforming and redefining health. "Having the very best training and education facilities down the hallway from where you work is a great way to become even better at your job and also to see things differently. What if we did this instead of that? What if we tried this approach first? A simulation lab is where you can have those conversations, stop and ask questions, experiment with new ideas and analyze them in a reality-based yet perfectly safe environment. That is how transformational change happens."
"Continuing donor support through the University Hospital Foundation is an integral part of the success of a world class simulation centre and program," says Dr. Derek Townsend, Facility Medical Director of the UAH. "It is very much appreciated." Dr. Townsend identifies five key areas that will benefit from the new centre.
"It'll improve patient safety, which is our number one focus. It allows us to enhance our skills. It allows us to practice teamwork and communication in an environment that can be quite stressful. It provides an environment that will help us develop a cost-effective way to train healthcare people. And then finally, research and development — medical simulation can be used to develop and test new research, medical devices and procedures prior to them being implemented into the healthcare environment."
To be located at the UAH, the simulation centre will cover over 1,100 square metres and be divided into seven state-of-the-art simulation rooms equipped with the most innovative technologies. There will also be seven dedicated conference rooms for debriefing and discussion after simulation-based activities, plus an administrative area and small lounge to support the simulation team, participants and visitors to the centre.
The modular design concept will provide maximum configuration and versatility in order to meet the needs and objectives of different departments. Spaces will replicate actual areas within the UAH including emergency, operating rooms, intensive care units, inpatient rooms such as transplant, and outpatient areas. In addition, the flexible room design can be tailored to suit multiple training needs including large and small team events, high fidelity simulations (using the new-age mannequins), technical skill acquisition and actor-based simulation.
Family conference areas will be built to allow healthcare providers to practice facilitating sensitive conversations with patients and their families during such events as a family conference after a mental health crisis.
"Think of the entire centre as a patient safety lab where you take pieces of equipment and technology and you practice with them and you get skilled with them before you get anywhere near the business end of a patient or a team that's under stress," says Dr. Peter Brindley, an Intensivist at the UAH and former Simulation Director for Alberta Health Services. "You can practice until you're perfect and then keep on practicing, quite frankly, as part of your regular day and commitment to constant iterative improvement."
It also provides a safe environment for doctors and staff, says Rachelle Saybel, Trauma Coordinator at the UAH. "Simulation provides us an opportunity to try out different types of equipment, different team  techniques, share expertise with each other, and have a safe environment to learn in, all at the same time.
"A team that works well together understands each other's roles and responsibilities. They understand the tasks they've been assigned to do and how to complete them and complete the communication with respect to that. They're able to anticipate what's going to come next and be ready for it before it happens."
There's another angle to the new centre that will benefit the UAH site, says Dr. Grant, and that's retention and recruitment. "We need that right now in AHS. It's been a troubling little bit of time for retaining people, but all of our new staff that come from undergraduate schools now, no matter if they're nurses or respiratory therapists or social workers or doctors, they all have done simulation in their undergraduate training, so I think they're all looking for an extension of that as they start their work. So I really see this as a huge retention and recruitment tool specifically for the UAH campus."
"I really cannot wait to take our donors through this fabulous new centre when it opens and show them the impact of their generosity," says Dr. Abbott. "This project would not be happening without their incredible support, and I want them to know that."