New partnership advances emergency medical care in Métis Settlements — from the inside
by DON TREMBATH + photography AMANDA GALLANT
Leona Small remembers the exact details of the day she almost lost her mother. They were at Walmart in Grande Prairie, passing by the appliance section of the store, near the refrigerators. "All of a sudden, my mom reached her arm up and said, 'Can you close that cupboard?' I said, 'What cupboard? There's no cupboard.' She said it again. 'Can you close that cupboard?' So Ilooked at her and said, 'Mom, are you okay?' But I could see already that she wasn't okay. The side of her face was starting to droop. I said, 'Mom, can you smile?' She couldn't smile."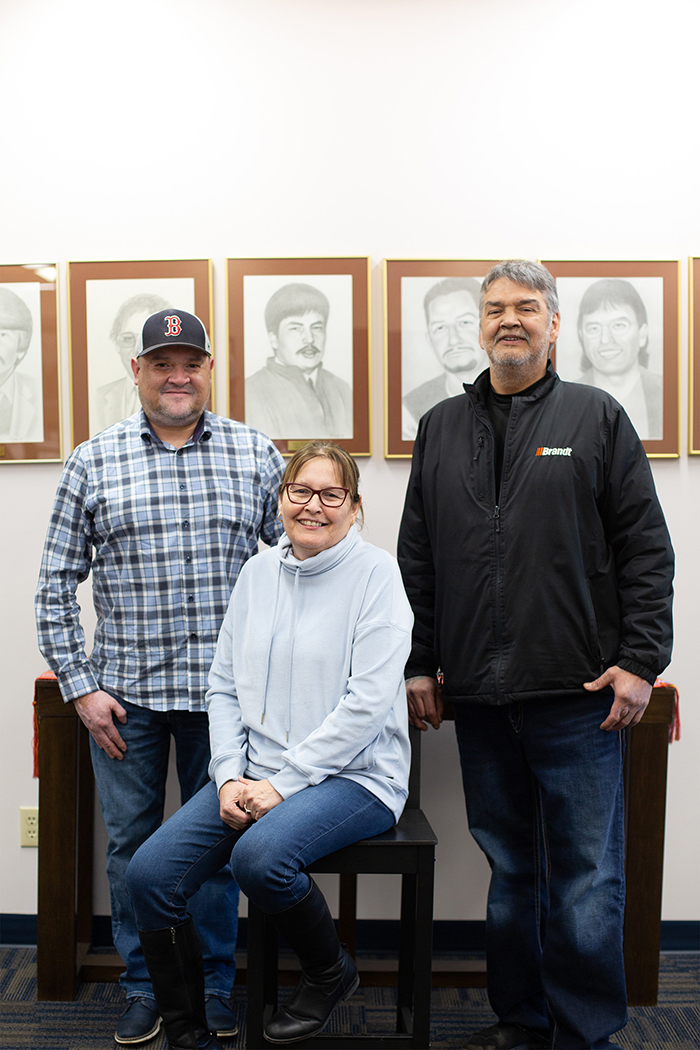 Immediately recognizing the signs of a stroke, Small was able to get her mom to the nearest hospital in time to save her life. "A massive blood clot had developed, so she would have definitely died if I didn't have the training that helped me see what was happening."
Four years earlier, on the advice of her uncle, Small had completed an Emergency Medical Responder (EMR) course. She was a young, single mother at the time, working three jobs at the Grande Prairie airport to support herself and her young son.
The training led directly to a new job as an industrial medic in the oil field. More importantly, it gave her the confidence to start believing in herself. "I was a First Nations woman working in the oil patch. I faced a lot of hate and racism. But I thought this was it for me. And for a while I was content with that because I wasn't scrubbing toilets at the airport anymore. Then someone told me, 'No.You can be more than that. You're just getting started.'"
Today, Small is a Senior Advisor in Talent Acquisition at Alberta Health Services, a role that, without her EMR training, she doubts would have happened. "I applied for a seven-month contract as a safety advisor, based on my EMR training. Lo and behold, I got the job. From there, one thing led to another. In July 2023, it'll be five years since I joined this team."
The Alberta Boehringer Ingelheim Collaboration (ABIC) — which is a partnership between Boehringer Ingelheim (Canada) Ltd., the Government of Alberta and donors to the University Hospital Foundation (UHF) — is supporting a new, innovative initiative aimed at advancing emergency medical capability in the Métis Settlements of Alberta by providing EMR training and support to community members.
Available to Métis people who wish to pursue EMR training for future career opportunities in health care, the support will also cover training opportunities for current and prospective community fire and rescue first responders, community leaders, staff and Elders.
Kathy Lepine, Chair of the Métis Settlements Health Board, says the new initiative is a valuable starting point towards building greater capacity in Métis Settlements across Alberta. "We're hoping that we'll have two trained EMRs per community and they'll be the early responders before the ambulance arrives. It will be very positive for us to have medically trained Indigenous Peoples in every settlement so when something happens, someone is on the scene right away, providing care and comfort. And, of course, it's a great opportunity for anyone who takes the training."
"Addressing the health challenges faced by Indigenous Peoples is a leading driver in the UHF's pursuit to transform and redefine health," says Dr. Jodi Abbott, President and CEO of the UHF. "Advancing emergency medical capability in the Métis Settlements of Alberta is one way that we are putting words into action. Our donors are proud to be a part of this partnership and look forward to future collaborations."
"Through this partnership, we are helping bridge healthcare disparities for Indigenous Peoples in Alberta who are significantly affected by a high incidence of chronic illnesses," says Annie Beauchemin, Executive Director, Patient Access and Healthcare Solutions for Boehringer Ingelheim (Canada) Ltd. "This work is meaningful, and we are proud to be part of the journey."
For her part, Small is grateful for the training that helped save her mother's life and put her own life on the path to where she is now. "I give back to my community and the Indigenous Peoples to this day. I'm always doing something, and that's why I'm so passionate about this program. It's like, we must make this work, because there's so many benefits. It's not just about making money. It's about having that knowledge to be able to help others."