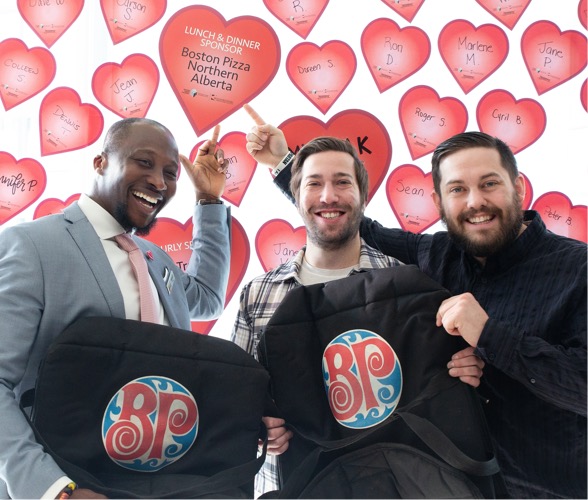 Boston Pizza's paper hearts fundraiser has become an annual tradition, but it has a special place in the hearts of the MacPherson family.
Neil, Kyle, and Ewen MacPherson are third generation Boston Pizza franchisees – the first family in history to be able claim this achievement. In 1991, the staff at their parents' restaurant decided to put on a fundraiser. They cut out paper hearts from construction paper and sold them for $1 each, in support of heart and stroke research, and displayed them on a wall. This small campaign held so much meaning. The staff wanted to show the MacPherson family their love and support, because David and Lisa MacPherson's second son, Kyle, had just been born with a life-threatening heart condition. He only had half a heart.
You read that right. Kyle was born with Hypoplastic Right Heart Syndrome – which means the right-sided structures of his heart were not fully formed. He underwent four open-heart surgeries, including one at just a few days old and another when he was just five months old, to ensure that he was able to live a happy, healthy life.
These surgeries were successful, and Kyle grew up with his two brothers, able to do everything they could do. The only noticeable difference were his visits to the hospital over the years.
The legacy of the first paper hearts fundraiser has lived on. In 1992, Boston Pizza turned it into a national program that takes place each February. Since it began, over $25 million has been raised for a variety of causes. Last year, the MacPherson family chose to fundraise for the Mazankowski Alberta Heart Institute at their Boston Pizza Northgate location, raising $3,550 for heart transplant research.
The Mazankowksi is a big part of Kyle and the family's lives. Kyle still makes yearly visits to the Maz to check in with his doctor. He feels comfortable there when he walks through the doors, and appreciates all the amazing work that is being done. One day, he will have to have a heart transplant, but he knows he and his heart are in good hands.
Thanks to the strong bond between these Boston Pizza franchisees and their employees, and their ongoing dedication to make a difference in their community, their generosity will continue to improve the lives of cardiac patients at the Mazankowski.