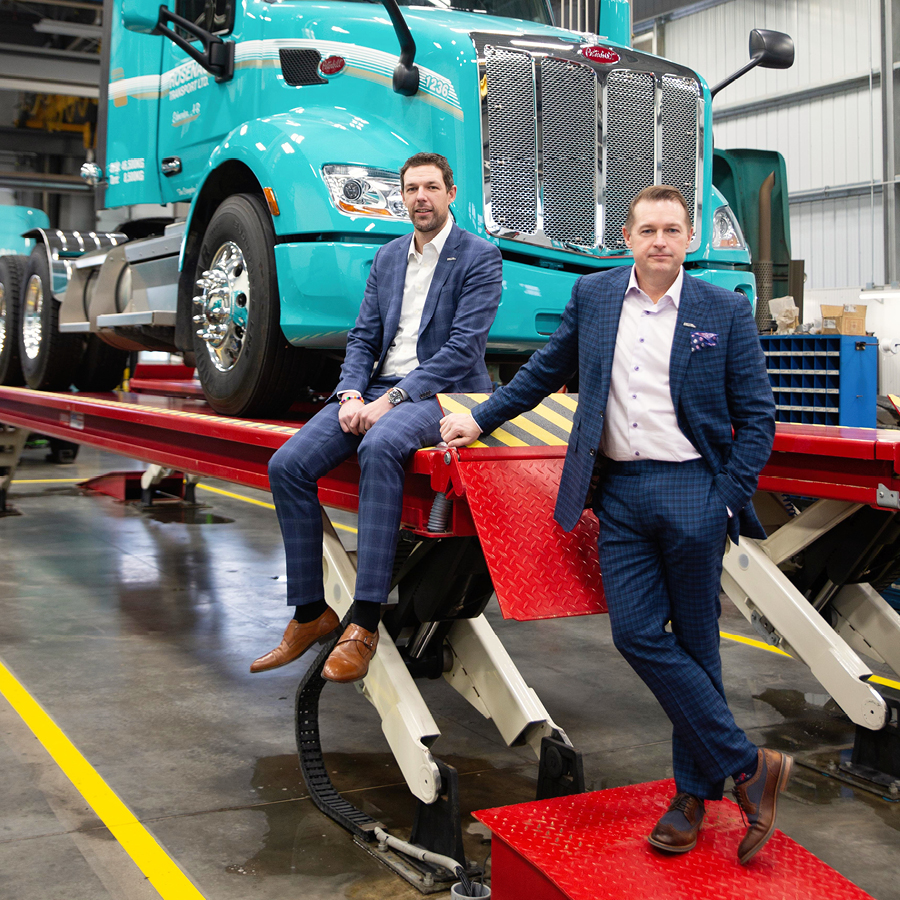 Just like their business, giving back is a family affair for the Rosenaus.
The family has always believed in giving back to the community in time and generosity, as individuals and through their company, and has passed down a tradition of social responsibility and service to the community.
Rosenau Transport was founded by August (Gus) and Colleen Rosenau in 1957. They started with just one truck, but since then the company has grown in to Western Canada's largest privately-owned shipping services carrier. August and Colleen's son, Carl, became President of Rosenau Transport in 1988, and his son, Ken, took the helm in 2017.
For more than 60 years, the company has been well-known for safety, dedication, reliability and of course for giving back to the community through many different initiatives, most notably their involvement with the University Hospital Foundation. These core values have been passed down through generations of family members and the company.
"Alberta, to us as an organization and a family, has been very good to our family and our team members and their families," says Ken. "It is important for us to give back to the communities that have supported us throughout the years. As long as we can continue to give back we will."
History with the University Hospital Foundation
Rosenau Transport has been a committed sponsor of the University Hospital Foundation's Festival of Trees since 1995. And in 2002, Carl began offering additional support by donating trailers to the Festival for transportation and storage, often for the entire year between Festivals. Festival of Trees committee members know they can count on the Rosenau Transport team to take care of even the most delicate decorations.
It makes complete sense to Ken that his father volunteered the company's services. "My dad is generous. When people call him for a helping hand he is quick to stick his hand up and say he'll do what it takes to help out the community," says Ken. "We had the space and the trucks, so of course he said let's do it."
Support from Rosenau Transport has helped fund almost every area of care at the University of Alberta Hospital including Canada's first stroke ambulance, incision free brain surgery with the Gamma Knife, the emergency room, and transplants.
They have also been a generous corporate sponsor of the University Hospital Foundation's 630 CHED Heart Pledge Day for a decade, and it all started because of an emergency.
Personal Ties to the Maz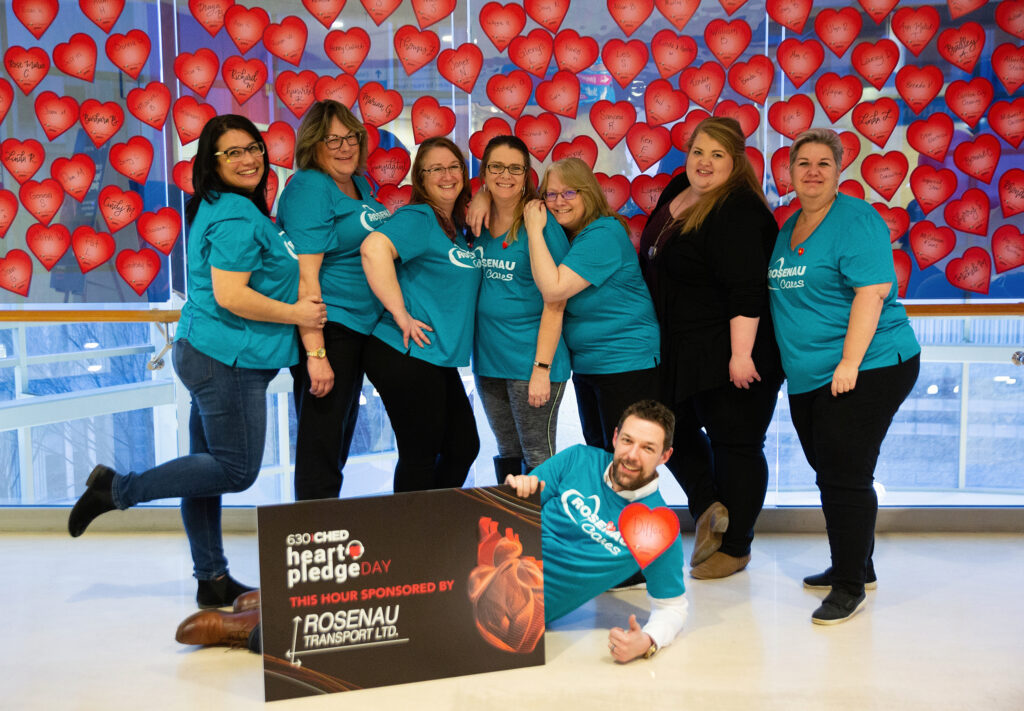 Carl used to think he was invincible, until he experienced a myocardial infarction – a heart attack – after a hip replacement surgery in February 2010. He was rushed to the Mazankowski Alberta Heart Institute (Maz), where he underwent quadruple bypass surgery and had his aortic valve replaced.
While he was undergoing life-saving surgery, the annual Heart Pledge Day radio-thon was broadcasting live from the second floor of the Maz, just a couple of floors below his operating room.
Carl's wife, Grace, shared his story on the radio, and donations from his friends and colleagues started rolling in. Community donations like these ensure the Maz continues to be on the forefront of cardiac care and saves the lives of the 1 in 4 Canadians who will be diagnosed with heart disease.
"I'm so grateful for the care I received both before and after my heart attack… I have a new lease on life!" says Carl. "When you have something as good as the Maz, you have to support it. The people they have onsite, the technology – it's a selling feature for Edmonton."
Carl personally donated to the event. He also became an ambassador for the Maz, sharing his story at fundraising events and inspiring gifts in support of cardiac care. Over the past five years, Rosenau Transport has been our Heart Wall sponsor and, each year a dedicated team of volunteers answers the phones, shares personal stories and encourages donations. The University Hospital Foundation, and thousands of cardiac patients who benefit, are tremendously grateful.
The Next Generation
Even though Carl is retired, Ken has continued the strong relationship between the University Hospital Foundation and the Rosenau Transport family.
"The charities and initiatives we get involved in affect our community. Healthcare directly impacts everybody – our employees, their family members, vendors and customers," says Ken. "In our own family, if the Maz wasn't there, things might've been very different for my dad. It's an important cause for us."
Ken also chairs the Rosenau Heart Open Golf Classic Society event committee, which hosts a golf tournament each summer, to raise funds for high priority needs at the Maz.
Ken and Rosenau Transport first got involved by sponsoring a hole at the first tournament, seven years ago. After the second year, Ken joined the committee, and three years ago, when they needed a new title sponsor, Ken jumped at the opportunity to become even more involved. He became the chair and Rosenau Transport has been the title sponsor ever since.
"We are a very fortunate organization. We've survived over 60 years of business and our plan is to survive another 60. As long as we can we will continue to give back to the community that supports us."
The University Hospital Foundation is also fortunate to count the Rosenaus as part of the UHF family. Their support has already had a huge impact on healthcare in Alberta and beyond, and we can't wait to see what the relationship brings over the next 60 years.