In an incredible show of generosity, an anonymous donor gifted $1 million dollars towards our fundraising efforts. That gift, combined with support from our community, allowed us to raise a significant amount of funding towards the creation of the Neurological Rehabilitation Innovation Centre, an advanced research hub and state-of-the-art care centre for patients like University of Alberta masters student, Riccardo Baldini.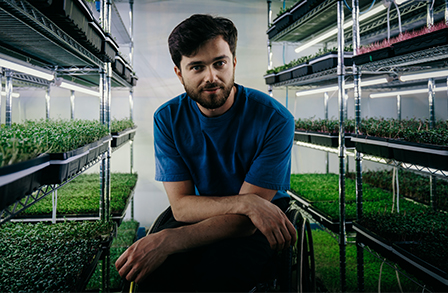 After a day of helping his cousin with a backyard greenhouse project, Riccardo went to bed and woke up the next day unable to use his left leg. In the middle of the night, a benign tumour in his spinal cord had begun to bleed. Despite several surgeries, Riccardo was paralyzed from the chest down.
"It's shocking. Once you realize that you are going to be in a wheelchair, permanently…It's devastating." says Baldini, "I was 25 and never really thought about anything related to disability before."
Neurological illness and injuries are a leading cause of disability in Alberta and around the world, with an estimated 28% of Canadians projected to be hospitalized with a brain injury by 2031. In cases of debilitating brain and spinal cord injuries, early access to advanced rehabilitation is critical to recovery. Currently, patients can wait up to 25 days to be transferred to an inpatient rehabilitation facility.
"I did everything I could to find places where I could train and do activity-based therapy. I was going on my own, putting electrodes on myself and trying to bike. The doctors tell you that your chances of walking again are close to zero, but they still keep hope. If you can get therapy within the first two weeks or month, you might have higher chances of recovering," explains Baldini.
The Neurological Rehabilitation Innovation Centre will provide patients with early access to innovative treatments and state-of-the-art technology, getting patients the care they need when it is most critical. Led by University of Alberta Hospital physiatrist Dr. Chester Ho, the new centre will also serve as an advanced research hub for neurologic centres across North America.
"I am so grateful to everyone who gave so generously to the University Hospital Foundation's Festival of Trees," shares Dr. Ho. "Because of you, we have taken a giant step closer to bringing a world class Neuro Rehabilitation Innovation Centre to the University of Alberta Hospital."
"Our generous donors brought us more than 95 per cent of the way to our goal, all by celebrating the season and making a difference in the lives of every patient who comes to the University of Alberta Hospital for neurological rehabilitation." said Dr. Jodi L. Abbott, President and CEO of the University Hospital Foundation.