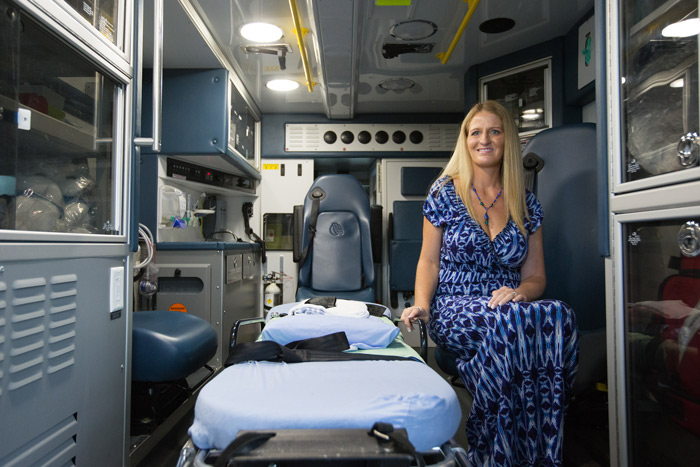 Lorna Friess, 41, knew she was in trouble, she just couldn't do anything about it.
Alone in her home in South Cooking Lake (10 minutes east of Sherwood Park), Lorna collapsed in her living room one morning while attempting to get a glass of water.
"The most I could do was sit up for a few seconds. Then I'd fall over again. My left side was paralyzed. I couldn't move."
Lorna had suffered an ischemic stroke, or a stroke caused by a clot preventing blood from reaching her brain. "I'd never had health problems before. I was a marathon runner. I ate healthy foods. The last thing I ever expected was to have a stroke."
She stayed on the floor for 12 hours. "I was stuck. I couldn't reach my phone. There was nothing I could do."
Fortunately, a neighbor saw Lorna lying on the floor and saved her life by breaking through the front window and calling an ambulance.
Following months of intensive rehabilitation, Lorna is defying the odds – she can walk on her own and is regaining use of her left arm.
"I take my dog Shiloh out for a walk every day. I'm very lucky. Most strokes don't end this way."
Dr. Tom Jeerakathil, a stroke neurologist at the University of Alberta Hospital, says that up to two million brain cells die every minute following a stroke. The sooner a patient receives care, the better the chances of minimizing the degree of disability, and survival.
"Every minute counts… in cases of ischemic strokes, the sooner the stroke patient gets the clot-busting drug, the better," said Dr. Jeerakathil.
Thanks to generous donors of the University Hospital Foundation and Festival of Trees, the University of Alberta Hospital is now home to Canada's first Stroke Ambulance and patients like Lorna will get the care they need.
"I can't even imagine how many stroke patients this could save. It is an amazing project."